Industry leading coatings for all assets and components, Applicable for OEM Spec, In-factory, aftermarket options and In-field applications. Industry based outcomes & Result's. Aeris can facilitate all your application requirements, from application to your new units in our factories through to in-filed applications via our Accredited Platinum Partner network.
Approved by manufactures
Preferred by the industry
Increase asset & component life by over 30%, insurance against corrosion for many years
40,000hr + salt spray resistance.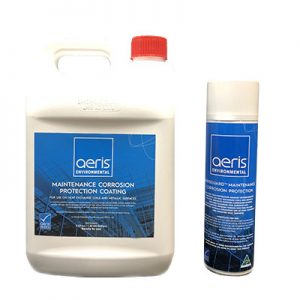 Aeris Guard™
Corrosion Protection Plus
Polyurethane
Baked Epoxy
Baked Phenolic
Blue Fin
Colour
Blue or Clear
Sliver
Black
Brown
Blue
Average Coating Thickness
25µ
25µ
25µ
75µ
2µ
UV Resistance
Excellent
Excellent
Poor
Very Poor
n/a
Salt Spray Resistance
ASTM B117
Exceeds 18,000 + hours
Exceeds 3000 hours
3000 hours
3000 hours
72 hours
Heat Transfer Reduction
0%
0%
1%
2-5%
n/a
Fin Coverage
100%
100%
Pin holes present
Inconsistent
n/a
Repairable
Yes
Yes
No
No
No
Warranty
5 Years (Additional warranty to 10 years)
3 Years Standard (Additional warranty tp to 10 years)
1 Year
1 Year
n/a
Product Code
Description
Dilution Rate
Application Rate
01-09-00020
Corrosion Protection Blue 5L
Ready to use
200ml per m2 coil face (12 fins/inch and 100mm depth) or 20ml per m2 flat metal surface
01-09-00022
Corrosion Protection Aerosol 350gms
01-09-00024
Corrosion Protection Clear 5L
01-09-00026
Corrosion Protection Clear Aerosol 350gms