Aeris Environmental HD Cleaner is an aggressive multipurpose cleaning product aimed at heavily soiled surfaces. HD Cleaner is formulated to attack greasy deposits and many other fouling deposits seen in commercial food preparation area and on equipment. It is an ideal product for the remediation of range hoods and anywhere that greasy surfaces need to be remediated. With the cleanliness of a Commercial kitchen range hood directly impacting not only the risks of kitchen fires but also a very strong source of bad odours effective removal is not only a legal requirement but good for return business. HD Cleaners ability to still effectively clean even at suggested dilution levels gives service companies a cost effective and time saving product that gets the job done.
Applications suitable for the use of HD Cleaner:
Kitchen extraction hoods and duct work
Cold-room / freezer – room walls and components
Kitchen Shelving
Stainless steel components in food preparation and storage areas
Heat exchange coils (fouled with grease based contaminate).
Key Features of the HD Cleaner:
HD Cleaner can be diluted 5:1 for the cleaning of lightly soiled surfaces
HACCP Approved
Balances aggressive cleaning with the OH&S of users
Non-toxic
Environmentally Sustainable
No special storage or disposal.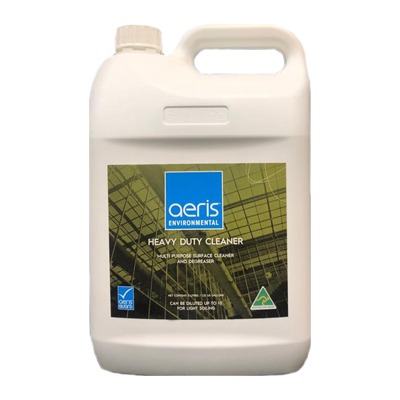 | Product Code | Description | Dilution Rate | Application Rate |
| --- | --- | --- | --- |
| 01-04-00012 | HD Cleaner (Heavy duty) 5L | Ready to use | 100ml/m² coil face (12 fins/inch and 100mm depth) or surface |