MULTI-ENZYME COIL CLEANER
CLEANER COILS IMPROVE ENERGY EFFICIENCY AND REDUCE RUNNING COSTS
The AerisGuard Bioactive Multi-Enzyme Coil Cleaner is a proprietary enzyme based cleaner and surface preparation product for HVAC&R evaporator coils for domestic, commercial and industrial air handling installations.
The product is designed for application to cooling and heating coils in situ as part of a mechanical plant maintenance program. The cleaning process removes any existing  bacteria, fungi and other contaminants.
The product is non-corrosive and completely biodegradable
Safely cleans and removes biofilm and other organic contaminants from air cooled coils
Optimises heat exchanger performance by removing contaminant build-up
Improves energy efficiency and reduces running costs
Improves indoor air quality
Extends asset life
Australian made
HACCP Certified.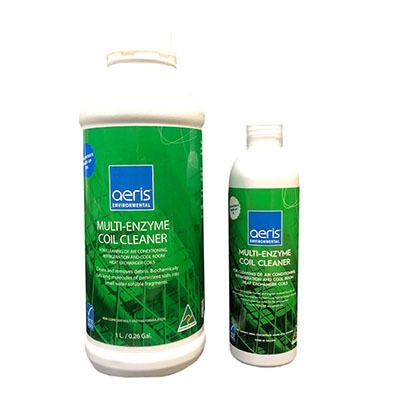 Product Code
Description
Dilution Rate
Application Rate
01-01-00001
Enzyme Coil Cleaner 1L
Makes up 20L
1.5L diluted solution/m² coil face
(12 fins/inch and 100mm depth)
01-01-00011
Enzyme Coil Cleaner 200ml
Makes up 4L