SURFACE CLEANER & SANITISER
CLEANER SURFACES IMPROVE ENERGY EFFICIENCY AND REDUCE RUNNING COSTS
The AerisGuard™ Surface Cleaner & Sanitiser is designed to provide a simple one step clean and sanitise solution for hard surfaces in HVAC&R systems including AHU walls, high wall unit plastics, drain pans, fans and other hard surfaces.
The easy-to-use spray-on, wipe-off process effectively removes contaminants from physical surfaces and duct work.
Clean surfaces in HVAC&R units and systems ensures :
Improved airflow
Improved indoor air quality
Increased system efficiency
Prolonged asset & equipment life
Reduced energy consumption.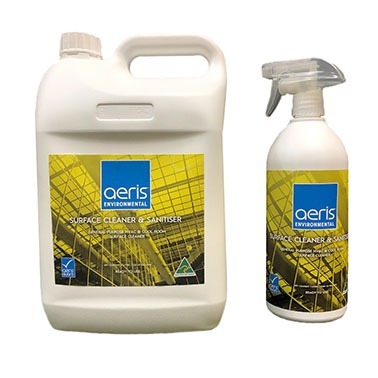 Product Code
Description
Dilution Rate
Application Rate
01-03-00030
Surface Cleaner – 5L
Ready to use
100ml/m² surface
01-03-00034
Surface Cleaner – 1L Spray